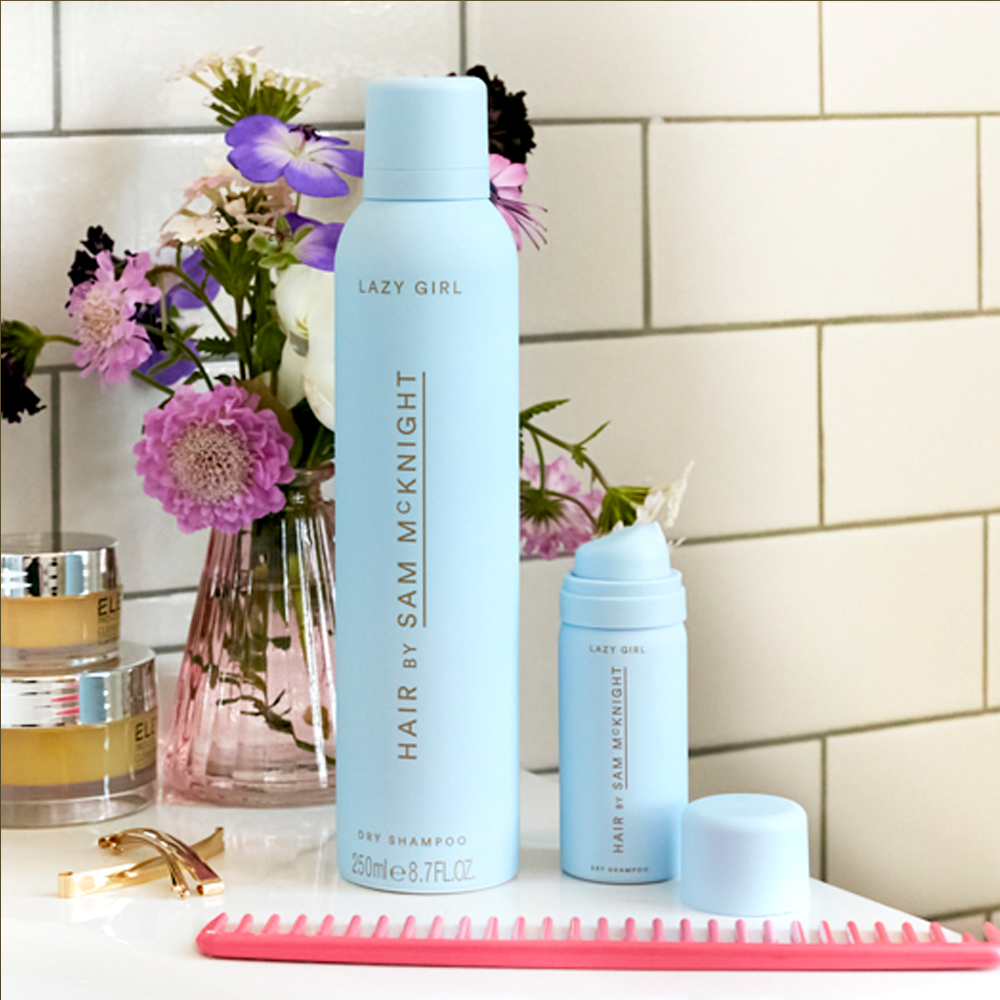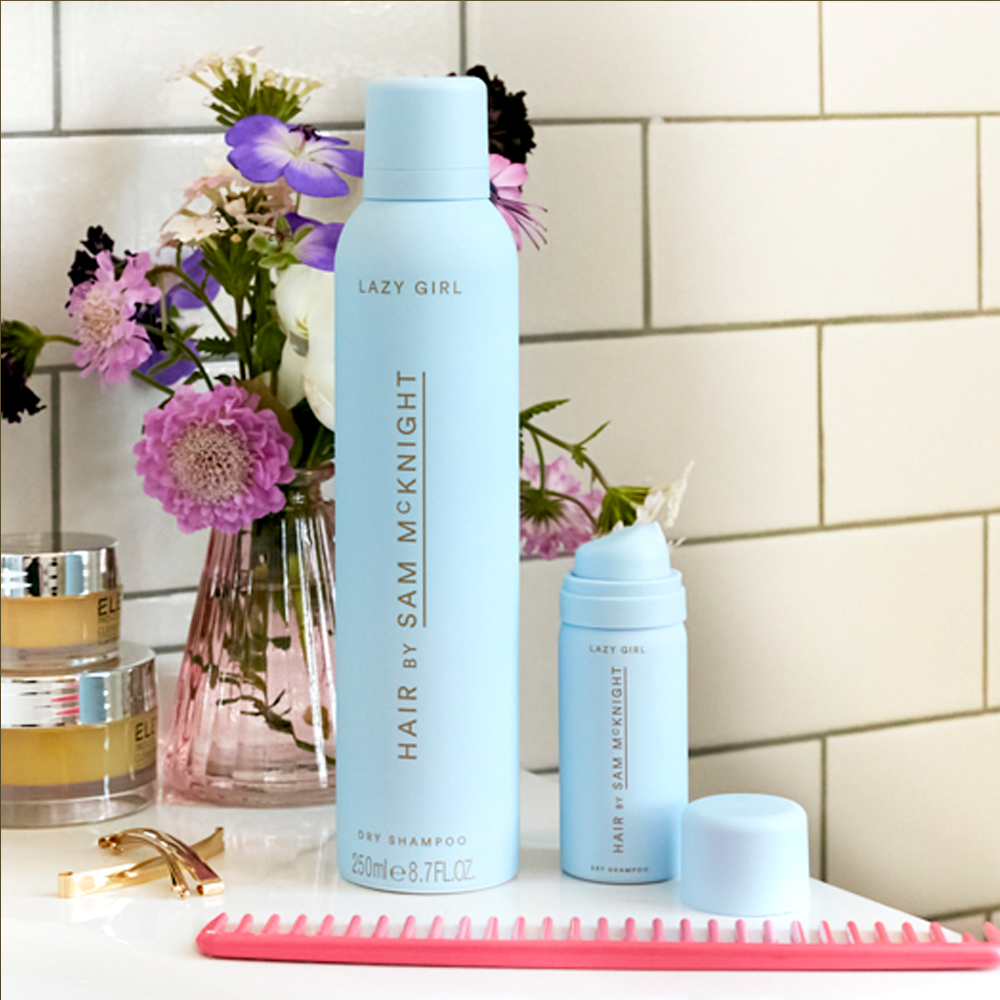 Lazy Girl Dry Shampoo
£22.00 250ml (£8.80/100ml)
CHOOSE TWO FREE SAMPLES WITH EACH ORDER
The light dry shampoo mist instantly refreshes hair whilst building soft body, volume and texture. Perfect for those lazy or jam-packed days and in-between washes.
* Wardrobe Icons Best Dry Shampoo 2021
* The must-have every day essential volumising dry shampoo
* Certified Vegan, no parabens or sulphates

"My dream dry shampoo and a styling product in its own right" – Sam McKnight
INSTANT REFRESH • SOFT BODY AND TEXTURE • ULTRA LIGHTWEIGHT
100% VEGAN
PARABEN FREE
SULFATE FREE
Tell me more ...
- Fine formula leaves hair feeling soft and healthy, allowing you to reapply the product throughout the day
- Refreshes roots, fringes and hairlines whilst gently lifting the hair
- Gives hair longevity between washes
- Expertly formulated for all hair types and textures
- Infused with Sam's signature scent with Frankincense, Juniper Wood and Water Lily reminiscent of his garden in the rain and created in collaboration with Perfumer H
- Available in 250ml and 50ml travel size
How to use
Shake well before use. For best results, direct spray into hair roots. Work through the hair by blow drying, using a pure bristle brush and hair dryer set to cold.
Ingredients
Butane, Propane, Alcohol Denat., Iso-Butane, Aluminium Starch Octenylsuccinate, Parfum, Silica Silylate, Betaine
Shipping
FREE UK STANDARD DELIVERY
Please note that all our orders are packed and shipped promptly, therefore in most cases we are unable to change delivery addresses. Please contact support at info@sammcknight.com to make an enquiry and we will endeavour to assist you.
We offer free standard delivery on all UK orders.
Orders are shipped and delivered by Royal Mail or DPD on business days Monday through Friday, excluding bank holidays and weekends.
We endeavour to deliver UK orders within 3 working days.
If you have any queries regarding delivery please contact Customer Services at info@sammcknight.com
INTERNATIONAL
We deliver to: Germany, France, Ireland, Netherlands, Georgia, Sweden, Greece. Email info@sammcknight.com if you are in Europe and want to check if we deliver to you
We can only deliver non-aerosol products (everything excluding Cool Girl, Lazy Girl, Modern Hairspray, Easy Up Do) to the US and Canada
Orders are shipping express UPS to the US and Canada, and DPD to Europe. Shipping charge from £5.
Return policy
If for any reason you're dissatisfied with your purchase, please contact info@sammcknight.com we welcome your feedback. Unfortunately we do not accept returns unless the product is faulty. There are no exchanges on our products. Please contact us at info@sammcknight.comand we will provide instructions for making returns.
"When backstage legend and hair maestro Sam McKnight launches a dry shampoo you know it's going to be good. An ultra-lightweight spray, this gives any lank looking do a second day overhaul."
ELLE UK
HOW TO USE
Lazy Girl Dry Shampoo
For a quick fringe or hairline fix mist Lazy Girl onto a soft bristle brush and brush through to refresh and rescue.
Step 1.
Shake well before use.
Step 2.
Section hair and spray evenly onto dry hair focusing on roots.
Step 3.
Brush through or use a hairdryer set to cold for a quick blast to remove any residue.
PERFORMANCE DRIVEN
Light, flexible and kind to your hair multi-tasking formulations allowing you to layer, brushout and restyle with ease
BOTANICALLY SCENTED
Fine fragrance infused with Juniper Wood and Water Lily reminiscent of Sam's English garden in the rain, created with Perfumer H
EXPERT APPROVED
Developed as Sam's ultimate creative kit bottling over 4 decades of experience in each of the tailored formulations 
Dec 29, 22
Sam's top 2 water saving hero hair products
I've created Lazy Girl Biodegradable Hair Cleanse Cloths and Lazy Girl Dry Shampoo to help clean and refresh hair instantly, on those jam-packed or hot summer days and between washes. Two Lazy Girl products – different benefits. Find your Lazy Girl quick fix or give them both a go. Scroll down to learn more about each.
VIEW MORE ARTICLES