CURL CLEANSE
.
Jan 05, 2023
ARE YOU WASHING YOUR HAIR PROPERLY?
It sounds basic, but most people wash their hair on autopilot, reaching for whatever products are in their bathroom. Yes, it's a simple task, but the health and condition of your hair start in the shower and depend on a good hair wash with products formulated for your hair type. Invest a little extra time and your hair will thrive –  it will look, feel and stay healthy, strong and full of shine.
Sam x


PS: scroll down for our guide to how to get a good wash.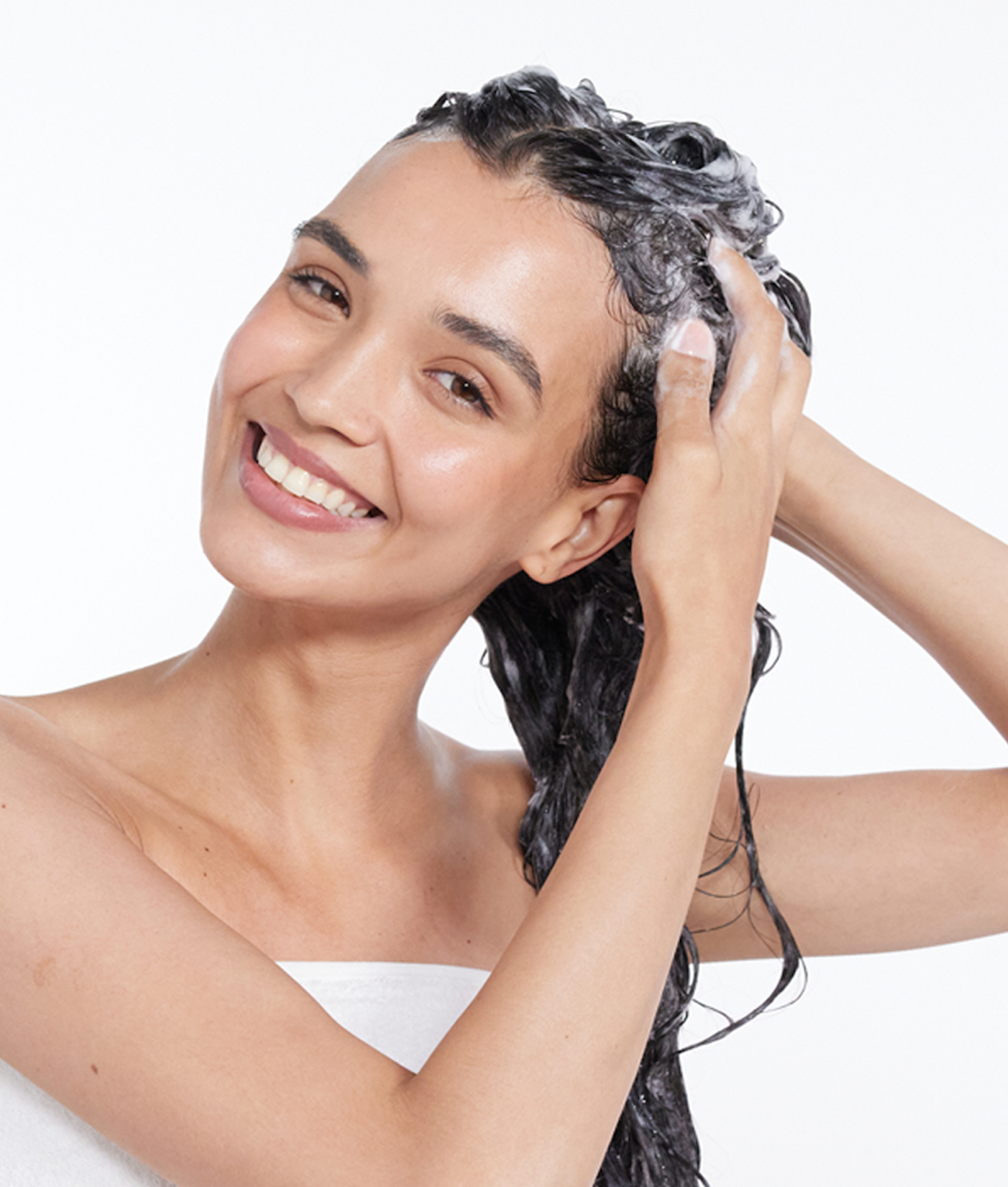 1. HOW SHOULD I WASH MY HAIR?

The scalp should be your focus when washing your hair, as a healthy scalp = healthy hair. Apply shampoo to wet hair and massage into the roots; if you need to create more of a slip, rather than adding more product, add a little more water. This helps to distribute the product more evenly by making a lather, which also means you use less shampoo. Avoid frizz or fluffiness by not rubbing your hair as you wash and rinse.
2. IS A COOL RINSE NECESSARY?

Hot water can irritate and inflame the scalp and strip natural moisture from your hair, which can lead to breakage and dryness, so rinse your hair with lukewarm or cool water when you wash.
3. HOW MUCH PRODUCT SHOULD I USE?

The amount of product you use depends on the length and thickness of your hair. As a rule, a 50p/quarter sized amount for short/shoulder length hair and (roughly) double that for long hair is a good guide. The important thing is to make sure you rinse the product clean from your hair.
4. WHAT HAPPENS IF I USE TOO MUCH CONDITIONER?

Using too much conditioner can weigh your hair down and leave it looking greasy. If you have fine or oily hair avoid the roots altogether – using conditioner only from your crown to your ends.
5. IS A DOUBLE-CLEANSE NECESSARY?

Double-cleanse your hair if you've used styling products, haven't washed your hair for more than three days or have been living/working in an environment that has stuck to your hair. The first cleanse removes product and sebum build-up, while the second will ensure your scalp and hair are fully clean and reap the benefits of its formulation.
6. SHOULD I USE A HAIR TREATMENT MASK?

Yes! A weekly (or bi-weekly) hair treatment will have instant and long-term benefits. As well as repairing damage and flooding the hair with moisture it will also make the hair stronger, more resilient, and easier to manage.
7. POST WASH, HOW SHOULD I MANAGE MY HAIR?

When hair is wet, it's fragile, so it needs to be handled with care. Prevent breakage and frizz by using a towel and gently squeezing the hair, starting from the top and moving down to the ends of the hair. To detangle, use a wide-tooth comb or a detangling brush with a flexible wide tooth to prevent pulling.
8. HOW CAN I CHOOSE THE RIGHT HAIRCARE PRODUCTS FOR ME?

Different hair types have individual needs regarding hydration, manageability, colour protection, and nourishment, so get the most out of your haircare and the best result for your hair by using products formulated for your hair type or concern. You will need to adjust your haircare routine if your hair needs change due to seasonal weather, frequent heat styling or taking medication.
Shop for our nourishing Deeper Love Intense Treatment Mask and browse the full Hair by Sam McKnight collection.